Serving Boaters on the Chesapeake for over 75 Years!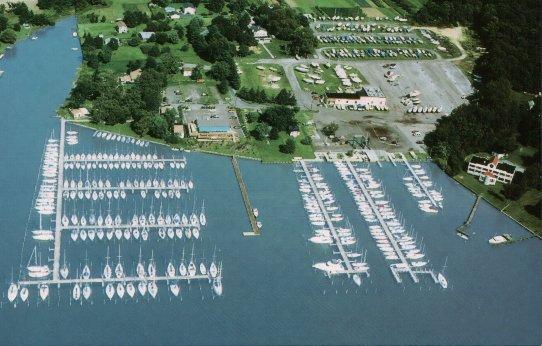 Our family oriented, full service marina is located on 18-1/2 acres of beautiful Baltimore County waterfront on Middle River. Our safe harbor, just two miles from the best the Chesapeake has to offer, can be found conveniently by land, sea, or air (see "Directions").
Maryland Marina has 360 slips and room for more than 600 boats in our facility either, in the water, on our ground level racks, and trailer spaces.. Trailered boats have use of our dual concrete ramp and our " Dry Sail " offers forklift service for power and sail boat owners who prefer that we launch their boats for them (see "Slips/Storage").
Our service staff specializes in almost every aspect of boat repair, maintenance, and restoration. If you are a boat owner who wants to get the most enjoyment out of boating and leave the work to someone else, or you simply need an experienced hand, our knowledgeable crew is here to help (see "Service").
Our ample-sized facility not only allows for storage of many boats, but also offers a beautiful setting for your family's comfort and recreation. Free WI-FI and pumpout station is available, along with plenty of parking, with convenient dock carts for your use. Your family can relax in our park area under the pavilion or shade trees, with picnic tables, barbecue grills and a playground for the children. Our comfortable and clean bath house is air conditioned and heated with private showers and dressing rooms. A laundry room is also available for your convenience. In addition, we have Sunset Cove located on the premises, where you can enjoy casual waterfront dining and entertainment.
Maryland Marina is a member of the the Marine Trades Association of Maryland, the Marine Trades Association of Baltimore County and the Chesapeake Gateway Chamber of Commerce. We have been named "Best Marina" by "The Avenue News" publication and recognized by Baltimore Magazine as the "Largest Marina In the Baltimore Area". This year marks our 74th year of serving recreational boaters on the Chesapeake. Whether you're with us for a day, a season or many years, our knowledgeable staff is here to help meet your boating needs.