Odyssey HD Bottom Paint Sale
PETTIT ODYSSEY HD MULTI-SEASON ABLATIVE ANTIFOULING BOTTOM PAINT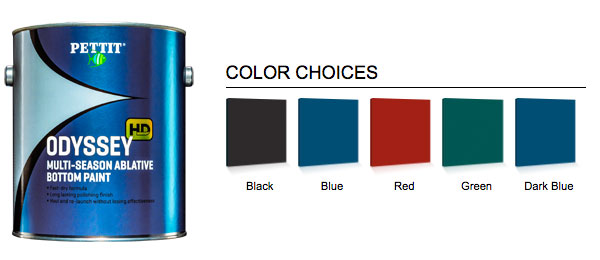 NOW ON SALE
$219.99 – $10 Rebate = $209.99
Sure, we've all heard that expression before, but when it comes to bottom paint we all get a little nervous making the switch. We know how far our existing bottom paint goes, the color and finish, the temperature limitations, how long it takes to dry, and how long it lasts.
Isn't it time we challenged the status quo and chose a bottom paint that dries in a couple hours instead of overnight? Can be applied in temperatures down to 40 degrees, has a better finish, cleaner colors, and goes 20% further than its competition?
How about the first bottom paint backed by the toughest 18 month limited warranty in the business?!
Odyssey HD offers all these great benefits including peace of mind protection with the HD (Hull Defense) Warranty. Couple the warranty with the a $10 manufactures mail-in rebate and you have protection you can take to the bank!
Fast dry, VOC compliant standard for boatyards
High-copper ablative protection in all waters
Smooth polishing finish prevents buildup and sanding
Compatible over most bottom paints
Covered by HD (Hull Defense) 18 Month Limited Warranty
Visit Us or Call 410-335-8722 to Reserve Yours Today!