Come get your winterizing marine anti-freeze while supplies last!
To protect against damages to hoses, water systems and seals, be sure to use Propylene Glycol antifreeze. DO NOT USE ALCOHOL BASED PRODUCTS such as sold at Walmart and automotive stores. Alcohol based antifreeze will damage hoses and other rubber components.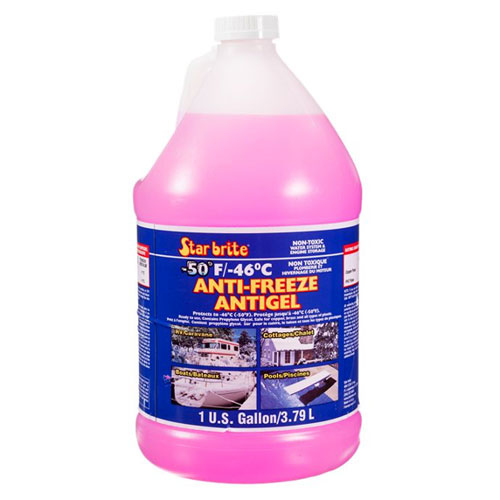 Starbrite -50 Antifreeze – $5.99
Star brite -50ºF (-46ºC) Non-Toxic Antifreeze offers outstanding cold weather and corrosion protection for drinking water systems and all engines. A premium combination of additives prevents corrosion of aluminum, copper, brass, and solder—yet won't harm rubber, seals, or hoses. Formulated with virgin, non-toxic, USP-grade ingredients, Star brite Non-Toxic Antifreeze contains no alcohols and is ready to use. Do not dilute. This Antifreeze provides burst protection down to -50ºF and freeze protection within a range of +12ºF to +16ºF (-11ºC to -9ºC). Made in USA.
Features
Protects water systems and engines from freezing during storage
Ideal for boats, RVs, and vacation homes
Safe for copper, brass, and plastic
Contains corrosion inhibiters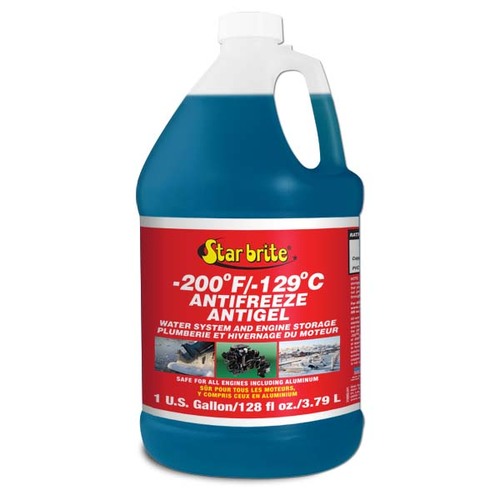 Starbrite -200 Antifreeze – $29.99
You can expect only the best protection for your engine and drinking water systems with Starbrite Antifreeze -200°F (-129°C), even in the extreme cold weather. You'll also be protected against corrosion with its premium additive package preventing corrosive damage from key alloys like aluminum, copper, brass, and solder, and still won't damage rubber, seals, or hose materials. The 3X-died blue color provides excellent blow-through visibility and is formulated with virgin, non-toxic USP-grade ingredients. Starbrite Antifreeze is alcohol-free and ready-to-use or be diluted – simply follow the directions on the label.
With Starbrite antifreeze you'll get burst protection to -200°F (-129°C) and freeze protection within a range of -98°F to -103°F (-72°C to -75°C). Most PG refractometers and/or hydrometers will not provide freeze point readings below -70°F.
Features
Ready-to-use, or may be diluted
Safe for all engines including aluminum.
Non-toxic virgin propylene glycol formula.
Provides copper burst protection down to -200F.
Contains corrosion inhibitors to protect all metal engine components and seals.
The most effective and safest way to protect all marine engines from freeze-up damage during winter storage.
Dyed in bright color for easy blow-through visibility